This segment titled Alphabet Soup: The alphabet according to someone with very little shame and a lot of time on her hands was inspired by blogger Mandy Wallace and the Writers of Kern A to Z challenge. Enjoy!
Hello everyone and welcome to Friday! The week is over and now all you have to do is make it to the end of the day. I believe in you. And your ability to pretend to be doing work while reading this. Go you!
I feel like BDSM is trending right now. Not this very second, but in general. The 50 Shades of Grey trilogy broke records, selling hundreds of millions of copies per book. It even surpassed the Harry Potter book sales!
The first movie to come out from the franchise sold a little over $330 million. And it didn't only break book and movie records, it also broke them in the sex toy industry.
During the initial craze, sex shops reported an insanely high spike in sales of items like floggers, crops, ropes, and collars. It wasn't long until the franchise had dedicated lines in the sex toy industry, putting out a variety of toys from vibrators and butt plugs, to nipple clamps and cuffs. Some stores even carry Grey's tie, in case you want to go the whole nine yards with your play time.
There is a large group of people who believes the trilogy, which was based on Twilight fanfiction, portrays an abusive relationship rather than a real D/s relationship. It was worrying for most people in the BDSM community because it meant being associated with abuse once more, but also because people who practice BDSM without the right security measures can get seriously hurt. On the other hand, there were people who felt that the arrival of something like 50 Shades of Grey should be celebrated because it meant BDSM would finally be accepted in the mainstream.
I'm going to say right now that I haven't read the trilogy or watched the movie. However, if they are anything like the Twilight series (which I HAVE read), I think there is definitely cause for concern. Bella always struck me as a character that wasn't fully formed. She has just enough definition to be concrete, but not enough to have dimension. In a way, I think that's why so many people identify with her, she's so ambiguous that there's space for everyone to see something of themselves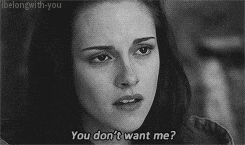 in her. Like the literary version of a horoscope. If that ambiguity, coupled with Bella's incessant need for Edward, were the building blocks for Anastasia Steele I can see where people would term it an abusive relationship, rather than a D/s one.
Everyone who is serious about their BDSM practice believes in the principles of Safe, Sane, and Consensual. Safe means taking every precaution to keep your play partner safe, that means knowing how to balance
their weight if you're tying them up, keeping a first aid kit on hand in case of emergencies, and paying attention to your partner's behavior in order to determine how the scene is affecting them. When it comes to sane, it's about much more than mental illness, for example. A sane partner is one who is emotionally sane and stable, who isn't looking for pain in BDSM in order to deal with something else in life, who is capable of communicating what is wrong in order to fix it. Finally, even scenes that may seem forced or nonconsensual are discussed beforehand and participants always have a safe word in case the situation becomes too overwhelming.
Whether the BDSM should be against 50 Shades of Grey or sing its praises for the spaces it has opened up, the reality is that more and more people are encouraged by the books to explore kink. My hope is that the people doing it find ways to stay safe, sane, and consensual in their playing. It's all fun and games until someone gets a vibrator stuck up their butt. Mark my words, you guys.
What do you think about 50 Shades of Grey? Is it abusive or is it a brand new dawn for people with alternative sexual lifestyles? Let me know in the comments! Also, let me know if you guys would like me to read the books and write a post on them! Keep it safe, you guys. And for the love of Tyler Oakley, wrap it up. Until next time!